Gleaning Farmers Market in Tacoma with Emergency Food Network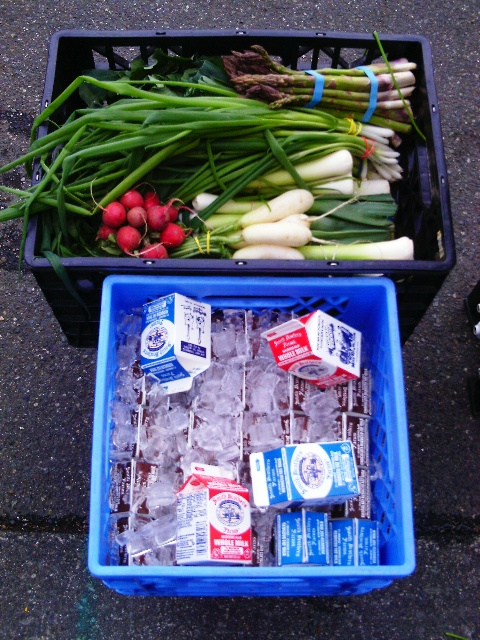 In its first year, the PCGP gleaning coordinator tabled and gleaned a weekly farmers market in downtown Tacoma. It was a great way to outreach to local farmers and resulted in 7,300 pounds of gleaned produce, milk, and bread for St. Leo's. In its second year, with its expanded focus, the PCGP found it necessary to connect each market with a food bank or hot meal site and encourage the organization to perform the weekly pickup. The downtown farmers market continued to be gleaned by a St. Leo's volunteer, while the two other markets were gleaned by volunteers from a nearby food bank and a soup kitchen. There are three general steps to gleaning farmers markets.
1. Drop off crates:
Before the market starts, and about 15 minutes before the area is closed off to vehicles, a food bank volunteer brings about a dozen milk crates and distributes them to the vendors with produce who might donate. Bread vendors tend to use their own sacks for bagging donations.
2. Pick up crates: 
At the end of the market, once the area is open to vehicles again, the volunteer can drive the van down the street, collecting crates from the vendors. When collecting crates, the volunteer asks the vendor if they're all done filling the crate, because many donations aren't determined until after the market closes. The volunteer thanks the vendors, and makes sure to collect as many crates as were distributed. Having a dolly to cart the crates from the vendors to the van helps.
3. Wrapping Up:
Donations are tracked by volunteers for all markets in a spreadsheet document created by the PCGP.
Suggestion: try to have one consistent volunteer from each site perform the farmers market gleaning, but provide the food bank with a document outlining the process, in case a different volunteer has to help. Also, designate one "emergency contact" (in this case, the PCGP gleaning coordinator) for the farmers market staff to call in the event that a crate is left behind or the food bank is unable to glean that day. Finally, plastic crates are better than cardboard in terms of sturdiness and telling them apart from the vendors' boxes!