King County Farmers Share
Building relationships for a healthy, sustainable local food system.
Updated 9/28/2020:
Big News! Harvest Against Hunger has King County CARES Act funding available to expand the local emergency food system's–food banks, meals programs, and senior centers–purchasing from King County farms through fresh sheets ordering and forward contracting through the end of 2020. These funds can also support payments toward King County eggs, dairy, and meat through Dec. 30, 2020. Small King County farms, if you're interested in wholesale selling to hunger relief, please complete our info survey: bit.ly/2CR4gPW
Program contact: maddie@harvestagainsthunger.org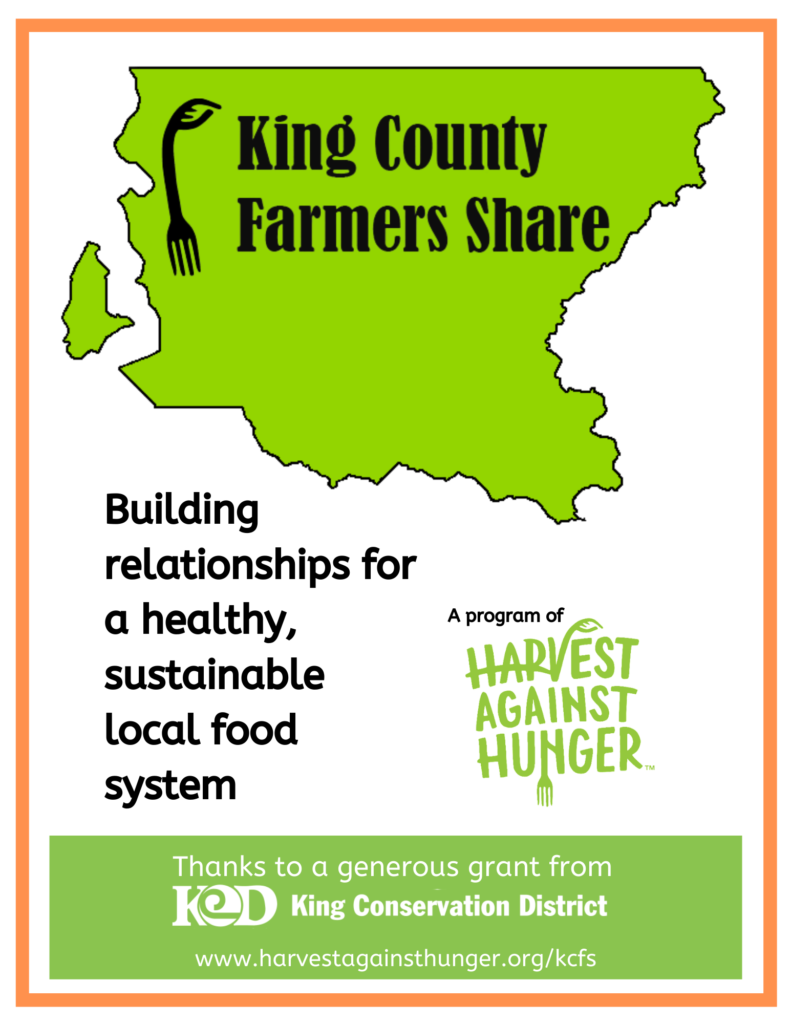 Harvest Against Hunger is expanding upon our Farm to Food Pantry program within our very own King County, Washington, in which 1 out of every 10 people lives in poverty1. Through the King County Farmers Share (KCFS), we are collaborating with hunger relief agencies, small farms, and aggregators within the county. Thanks to a two-year grant from the King Conservation District, agencies can apply for funding to purchase produce directly from farmers. Establishing these connections will both increase the amount, variety, quality, and consistency of local produce available to food insecure King County residents and support local farmers with a consistent, profitable outlet for produce.
We are developing direct purchasing agreements between farmers and food banks as well as piloting new ideas and models, creating flexible arrangements that support the varied needs of our partners. Like F2FP, agencies and farms can arrange contracts upfront (pre-harvest) or as extra unharvested produce becomes available during the growing season, ensuring fresh, healthy food goes to people rather than to waste. Since it is not always financially feasible for farmers to make donations, purchasing produce allows food banks to establish good rapport, fostering ongoing, mutually beneficial relationships. Additionally, we provide networking and resource-sharing opportunities among the agency partners, as well as outreach support.
"We gave them a list of our wants and do-not-wants and they picked us an order each week from that list and their current crop. We were also on the same page regarding our pricing needs. This was truly a win-win for both us and the farm."
Our inaugural year of KCFS linked diverse small-scale growers (the outside of the diagram) to the following hunger relief agencies and/or their member food banks:
Increasing these links within King County's local food system ultimately creates a stronger network that not only increases access to healthy food, but addresses sustainability from the three-pillar approach:
Economic (financially supporting small-scale agriculture)
Environmental (reducing food waste and food miles)
Social (establishing robust, diversified partnerships)
Click here
to view and download the full 2019 King County Farmers Share report to learn more about the work accomplished in the program's pilot year. The report provides data on:
Pounds of produce procured
Types of produce procured
Additional donations and gleans of produce from partner farms to agencies
The report also includes testimonials from our partner agencies on the benefits of this new supply of farm-fresh produce in their work and positive responses from their clients.
Update 6/2020:
In response to the impacts of COVID-19, King Conservation District awarded KCFS additional funding to expand and extend the program through the end of 2021. Thank you, KCD!
Interested in participating? Reach out to us!
If you're a King County hunger relief agency with the interest, need, and capacity to purchase fresh produce from local farms, we'd be happy to bring you into the KCFS network, especially if you have:
Pre-existing relationships with King County farms
Feeding/food delivery programs for seniors/senior centers
Capacity to accept/glean B-grade produce–for secondary processing too!
If you're a small-scale King County farm whose sales have been impacted by closed farmers markets, restaurants, schools, or your other usual sales outlets, we'd love to connect you with a local hunger relief agency whose needs align with your produce availability and delivery schedule!