Our new collaboration with PCC Community Markets & Seattle Neighborhood Farmers Markets
The Growing for Good Partnership: Farmer Centered, Community Focused, People Funded
After the onset of the COVID-19 pandemic in March 2020, PCC Community Markets reached out to Seattle Neighborhood Farmers Markets in response to the public's rising levels of food insecurity. Working with Harvest Against Hunger and the tools and knowledge of our preexisting Farm to Community programs, PCC initially donated $80,000 to NFM to help establish a CSA-type contracting model that would allow NFM to provide upfront payment to local farms to sell their produce to food banks, as many small farmers were unable to sell their produce in their usual avenues when markets and restaurants began to close.
With PCC's donations, along with over $212,000 in funding raised by the public through PCC Food Bank Program, this partnership been able to support 15 Seattle-area food banks and 14 farms across 7 counties around WA in just its first season.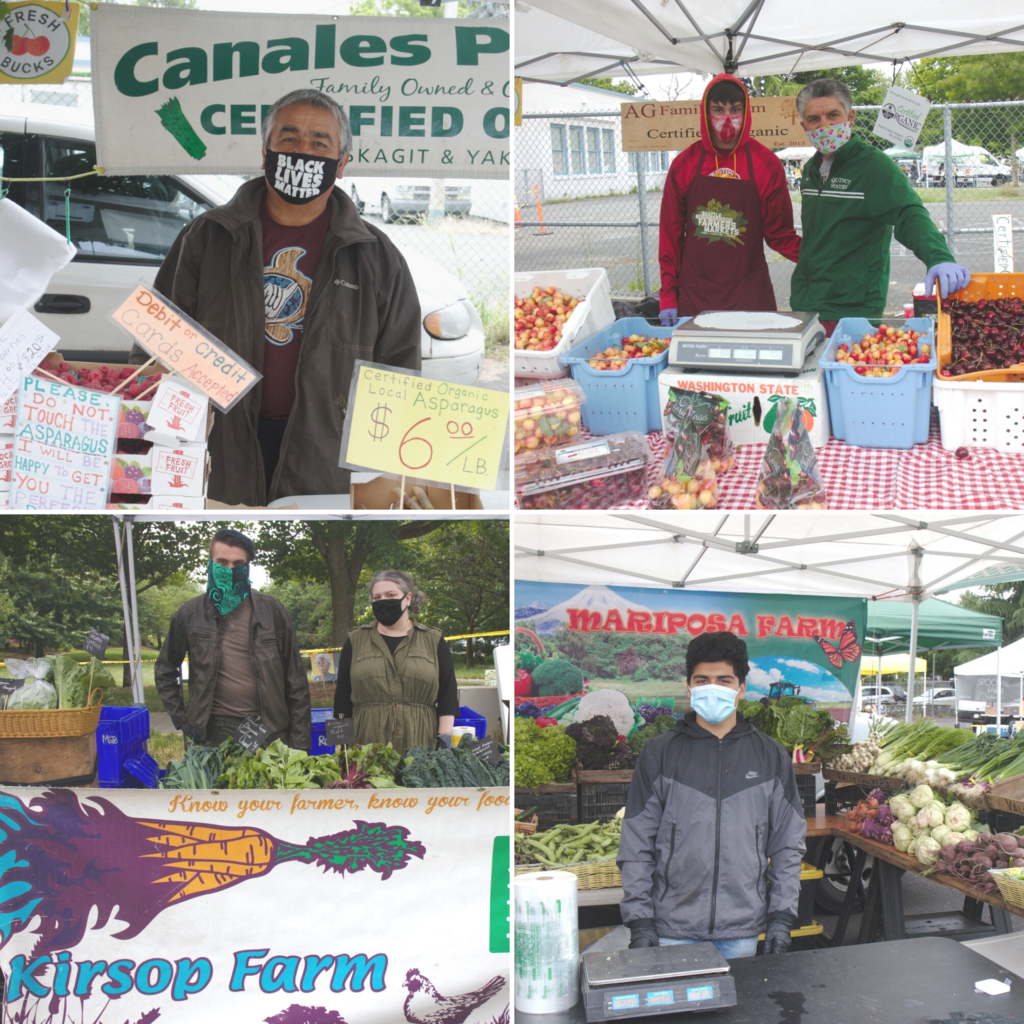 Having the opportunity to meet the farmers who have grown such nutritious and delicious items and sharing clients' positive feedback has been such a success.
Our partnership with PCC Community Markets and Seattle Neighborhood Farmers Markets began with the goals of providing both an alternative income stream for NFM's small farms whose businesses were threatened by the closures of Seattle farmers markets in spring 2020, and fresh produce for food banks in PCC's Food Bank program experiencing greater demand during the pandemic. While the partnership was initially meant to be a short-term solution to COVID-19's impacts on food security and the local farm economy, its multiplier benefits have allowed it to become more established in the region's food system. With increasingly successful fundraisers now allowing for a multi-year commitment from PCC, the program has continued to expand and is preparing to begin its 4th season of farm-to-food bank contracting. 
Click below to view annual reports for impacts, testimonials, and future directions for the program: 
      2022 Farms
Sno-Valley Gardens 
Windy Acre Farms
Present Tense Farms
AG Family Farm
Alvarez Farms
Canales Produce
Farias Farm
Hayton Farms Berries
Kirsop Farm
Regino Farm
Viva Farms
Mariposa Farm
Spring Time Farm
Frey Family Farm
Left Foot Farm
Olsen Farms
      2022 Food Banks
Asian Counseling & Referral Service
Chicken Soup Brigade

Byrd Barr Place

Des Moines Area Food Bank

Edmonds Food Bank

University District Food Bank

FamilyWorks – Wallingford Food Bank

Highline Area Food Bank

North Helpline – Bitter Lake/Lake City Food Bank
Issaquah Food and Clothing Bank

Jewish Family Service – Polack Food Bank

Hopelink – Bellevue, Redmond, Kirkland
Rainier Valley Food Bank

Renewal Food Bank

White Center Food Bank