HAH Food Security Champions
Lead the effort to build food security in your community.
There are many ways that you can work with Harvest Against Hunger to help support hunger relief and improve food systems. In this section, we'll share resources and ideas that will help you to get started as a Harvest Against Hunger "Food Security Champion" in your community today. 
Review the sections below to learn more how you can reduce hunger and food waste or support small-scale local growers who can provide fresh, healthy produce for those in need.
We'd also like to hear from you if you have programs or projects to share with Rotarians and others. Our goal is to build our collective network to better support community-based collaborations to reduce hunger and food waste, while supporting local growers.
Help organize work parties (like this gleaning project) with members in your community.
Come learn about the programs that HAH manages:
HAH's core work is finding and delivering truckload-sized donations of produce for hunger relief partner warehouses. 

Harvest VISTA program places AmeriCorps members with local programs to build and improve connections between farmers and hunger relief organizations.

Farm to Community connects small-scale growers with local hunger relief partners across Washington to develop wholesale connections to get nutrient-dense fruits and vegetables to those in need. 

Capacity Grants provide grant funding to help local hunger relief programs invest in capacity to handle perishable donations. 

Computers for Hunger Relief provides computers and software to help food pantries and meal programs across Washington to be more efficient and effective.
Want to learn more about food waste and ways it can be reduced? Learn more here.
You can also read about Washington Dept of Ecology's efforts to reduce and prevent food loss as part of its "Use Food Well" program.
While you are here, take a look at information and statistics regarding hunger in our communities:
Are you interested in learning more about us? Reach out to contact@harvestagainsthunger.org and we can get a presentation scheduled for your community.
Be a Champion for Hunger in your community! Champions play a crucial role in supporting Harvest Against Hunger's work and providing great opportunities for Rotary Club members to give back to their community.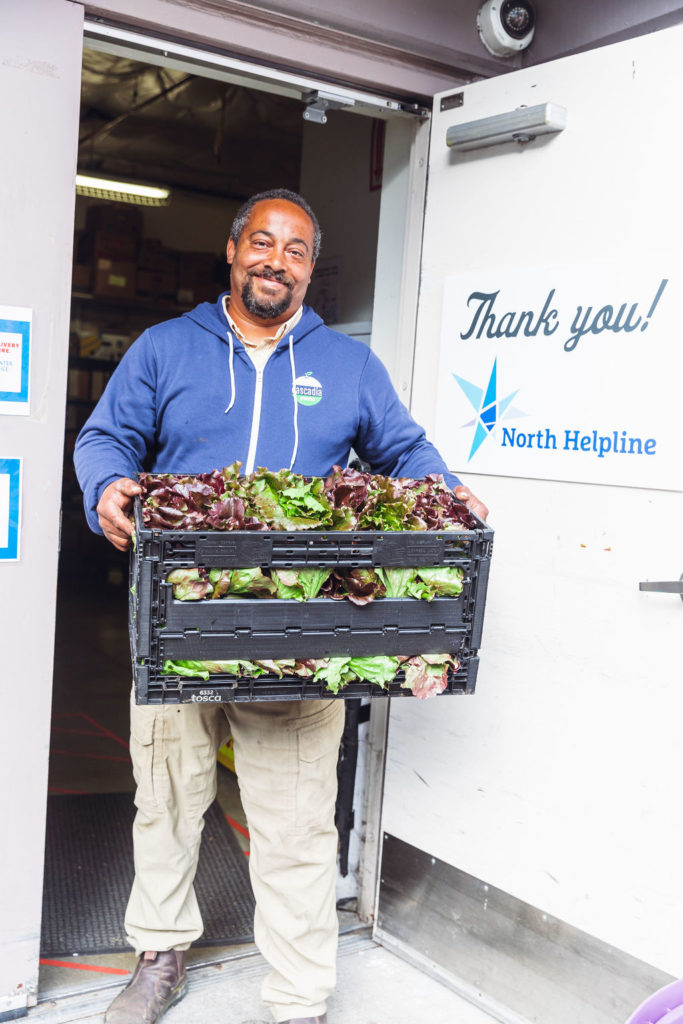 Farmer Bil Thorn delivering some of his healthy, local produce to North Helpline through our Farm to Community work. Emilio Carrillo, photographer.
There are many ways you can engage with our work to reduce hunger and food waste throughout the year through volunteer opportunities, fundraising and social events, advocacy, and more! Be sure to sign up for our HAH champion newsletter to be sent information about upcoming HAH events as which can be shared with your clubs and community.
Harvest Against Hunger Volunteer Opportunities
HAH engages volunteers for food packs, gleaning days, and more as the need arises. Stay tuned for upcoming events.
Hearts & Wine
Hearts & Wine is festive evening of fun, fellowship, fundraising and wine tasting while savoring generous appetizers. Join 200 to 300 concerned citizens who are passionate about reducing hunger and food waste in our community. 
Volunteer with our Partners
The food banks, farms, and organizations that Harvest Against Hunger partners with also have frequent opportunities for hands-on volunteering.
Advocate
Advocate for hunger relief and food waste reduction efforts by contacting local, state, and national leaders to push for legislative reform and funding.
Information on upcoming opportunities and how to get involved will be shared in our monthly Champions newsletter—sign up below!