Glean Processing at WSU Clallam County Extension
Glean Processing
Overview: In order to take advantage of the successful gleaning program and bypass the storage limitations of food relief agencies, volunteer-based workshops can process excess gleaned produce into shelf-stable items for distribution and teach food preservation and waste prevention.
To hold a successful glean processing event, the VISTA must take a number of steps to ensure all the legal and logistical elements are in place for food-safe procedures and proper donation of food products to receiving agencies.
Before beginning, talk with the hunger relief organization (food bank, food pantry or meal program) about what they want, what they can accept and what storage capacity will be needed before and during distribution.

Review relevant

Washington Administrative Code on Food Service

, particularly section 3 (Food) and section 9, subpart D (Donated Food Distributing Organizations). Meet with county Environmental Health officers throughout the process to discuss best food safety practices.

Gather food for processing. This may happen through a gleaning event coordinated specifically for processing, or from collecting food bank products that will not be distributed in their current state and are able to be passed on for transformation. All food must be inspected and pass safety standards detailed above in the WAC.

Locate a kitchen to use for processing. Consider the permit needed – a DFDO permit can be arranged by coordinating with nonprofits and the food bank (INSERT "DFDO APPLICATION"), or the correct commercial permit will cover processing activities within certain constraints. Use the first-year VISTA's 'Clallam Kitchen Spaces' Google sheet to see options around Port Angeles and Sequim. (If you are beginning a new program elsewhere, consider using

a similar form

and finding volunteers to visit kitchens and accumulate a list of potential sites.) Apply for a Temporary Event Food Permit from the Environmental Health office two weeks in advance, and specify your donation intentions to have the fee waived.

Recruit volunteers for the event using the various sources mentioned in the Volunteer Relations section. Ensure at least one person on site has a

Washington State Food Handler's card

, which is easy to obtain, and that all other volunteers are instructed in relevant safety and hygiene procedures. 

Prepare food items safely by cooking and cooling to appropriate temperatures. Contact the WSU Extension and your local health department for additional safe food handling information.

Package the item into food-grade containers and label with the common name, location of processing, event date and any other information mandated by federal, state and local labelling requirements.

Donate the food items to the hunger relief organization and provide information on the source of the food, the processors, location of food preparation, and steps taken during storage, preparation and transportation to avoid contamination and maintain temperatures.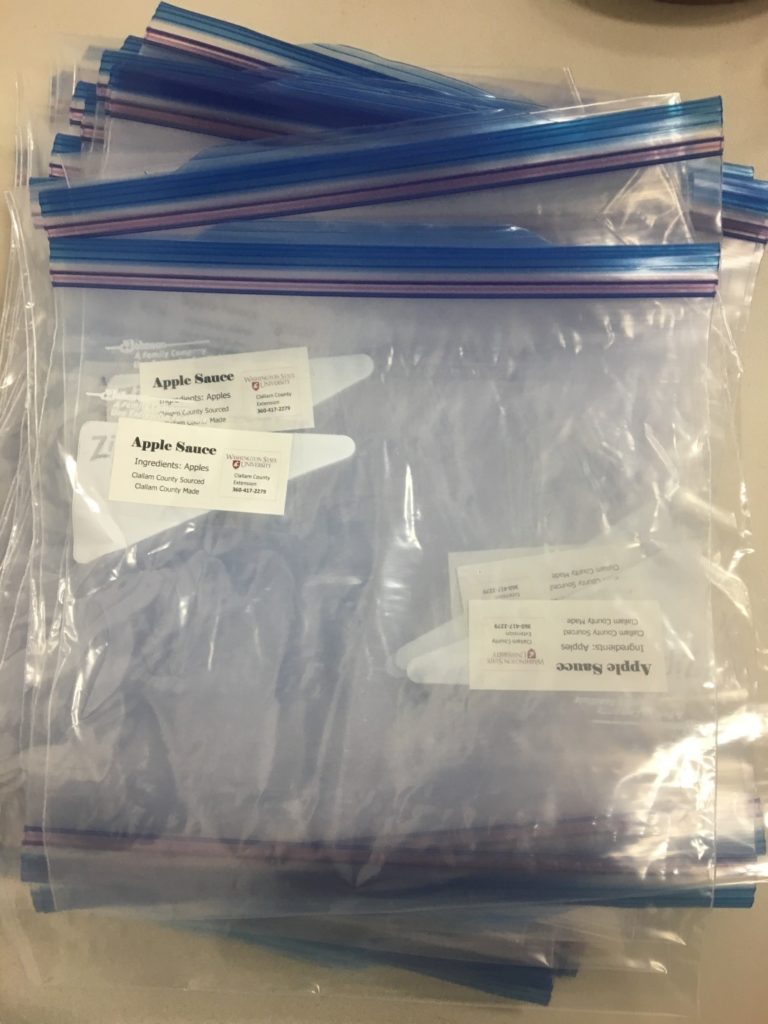 Throughout the processing planning, it is critical to ensure that local health regulations are being followed to avoid putting receiving organizations and their clients at a health risk, as well as the VISTA's own organization at a liability risk. The WSU Extension and previous VISTA's have cultivated good relationships with the Environmental Health office to ensure all regulations are best respected while also expediting the process to prevent food waste and feed those in need.