Concrete Jungle's COVID-19 Grocery Delivery Program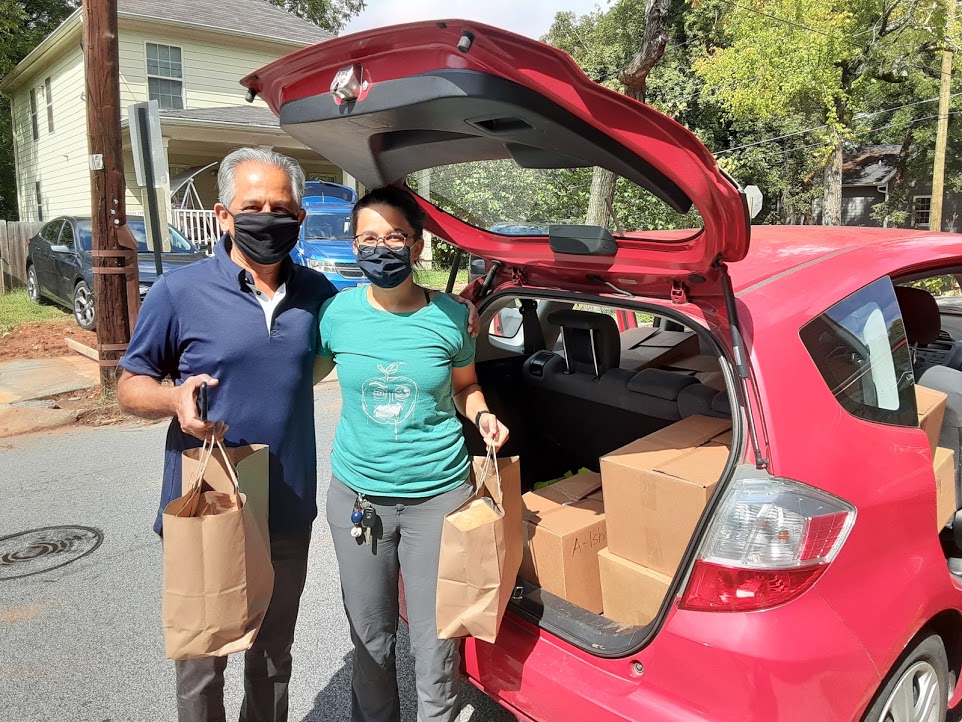 Written by Lorie Bonham, Strategic Programming and Expansion Manager VISTA.
Updated by Meggie Stewart, Communications and Program Expansion VISTA.
During the COVID-19 pandemic, the rise in food-insecurity rates was well documented. Many of the clients served by Concrete Jungle's partners are seniors, chronically ill or immunocompromised, putting them at higher risk of contracting COVID. In response, Concrete Jungle started a grocery delivery service for food pantry clients who were quarantined or dealing with health risks. During 2020 and 2021, the program made over 4,500 deliveries and served about 300 families (approximately 800 individuals) per week. Feedback from the families was overwhelmingly positive. According to one recipient, the deliveries helped her eat more vegetables than she did before the pandemic. The program empowered people in need to prioritize their health by staying safe at home and cooking meals with fresh produce and quality ingredients.
In 2021, the Grocery Delivery Program ended. Concrete Jungle discovered that as pandemic restrictions lifted, sources of emergency funds for this type of program depleted. The program also relied on volunteers to help pack grocery boxes and make deliveries in their vehicles. Many volunteers were unable to continue their previous commitments to the program once remote work ended and their schedules changed. The staff of Concrete Jungle had to make the difficult decision to end the program to focus on other programs addressing the changing needs of the community.
Produce Buyers Club is a new program designed to help address increased food insecurity which continues to affect Atlanta residents. Produce Buyers Club purchases imperfect produce at a discounted price from local farms and distributes it to food pantries in the Atlanta area. Some food panties can only offer non-perishable food because it is time consuming and expensive to source, transport, and store fresh produce. The Produce Buyers Club makes it easy for dozens of food pantries to offer fresh produce to their clients by taking care of sourcing, transportation, and storage. The program was made possible by long-term grant funding and it is operated by two full-time staff who source produce from farms, transport and store it, communicate with buyers at food pantries, and provide education for food pantry clients.
In March 2020, the City of Atlanta's COVID-19 emergency policies barred community food pantries from maintaining normal operations. Atlanta specifically informed one of Concrete Jungle's food partners that the organization could no longer operate because of potential client COVID-19 infection. Concrete Jungle (CJ) staff recognized the urgent need to maintain the fresh produce supply chain while mitigating the risks of COVID-19 for client's and staff's health. 
On March 23, CJ staff met food pantry clients to assess interest and feasibility of pantry grocery home delivery. The response was overwhelmingly positive and CJ staff signed up 20 people immediately. Information spread that CJ was offering this service, and soon, seniors and families were calling CJ to be added for grocery delivery.  
By the end of March, CJ launched the COVID-19 Grocery Delivery Program (GDP) to serve food insecure Atlantans who self-identify as being at high risk of COVID-19. To launch the GDP, CJ tapped their volunteer database to recruit packers, delivery drivers, and client callers. The GDP engages approximately 150 volunteers weekly for shopping, packing, grocery delivery, and managing communications and logistics. 
FOOD DISTRIBUTION CHANNELS
The GDP uses three no-contact methods to deliver groceries: 1) food pantry suppliers, 2) grocery depots and 3) family sponsorships. Different methods allow CJ to maximize program impact by using different resources and partnerships.
Food pantry suppliers
Food pantry partners create one week's worth of groceries, including produce and shelf-stable food for clients. CJ supplements grocery boxes with recovered produce. Volunteer drivers pick up boxes from pantries and make a no-contact delivery to specified client lists.  
Grocery depots
CJ purchases and aggregates donated groceries at two "depots" located near clusters of clients. Volunteer drivers pick up from the depot and make the no-contact delivery. Perishable items, such as meat and dairy, are available bi-weekly.  
Family sponsorships
CJ matches volunteers to food-insecure households. Volunteers purchase weekly groceries for a specific household and make a no-contact delivery. Seasonal produce comes from partner organizations and Georgia farmers. CJ provides volunteers a suggested shopping list. In the program's first week, CJ provided no-contact deliveries for 90 families, 180 families in the second week, and over 400 households in June. As of October 2020, approximately 300 families were receiving weekly deliveries.
What our clients say: 
"Thank you again! I know a thank you is not much but I really appreciate everyone who makes this happen! With all the stress of not knowing if I will have a place to stay from week to week it's good to not have to stress about being hungry!" 
What our volunteers say:
"I'm thankful for concrete jungle because not only has it been amazing to help people in need during this pandemic, but I've also met a lot of great people while volunteering."