Volunteer Relations at the International Rescue Committee
Volunteer Relations
The New Roots program has access to the IRC's volunteer and communications systems, the most notable of which are a large existing pool of on-call community volunteers and a dedicated Volunteer Specialist who manages requests for volunteers. Every time a volunteer need comes up for New Roots, the VISTA submits a Google Form with details such as the number of volunteers, date, time, and activities to be completed. The Volunteer Specialist includes the need in a monthly email to all registered on-call volunteers and provides a sign-up link for the event. The need is also posted to IRC Seattle's Facebook page.
As people sign up to participate, the VISTA sends thank-you emails and reminders with important information. On the day of the event, the VISTA brings a sign-in sheet that acts as both a volunteer agreement and a photo release form that volunteers must sign before participating. The VISTA also gives an overview of the IRC and New Roots at the beginning of any volunteer event, which helps volunteers feel more engaged in the overall mission of the IRC.
An important aspect of volunteer retention is promoting self-care among volunteers as they work. Providing for basic needs with snacks, water, and bathroom access is key to making volunteers feel more comfortable. Many New Roots work parties involve physical labor, so reminding volunteers to take breaks and listen to their bodies is crucial to helping them feel supported and not overworked.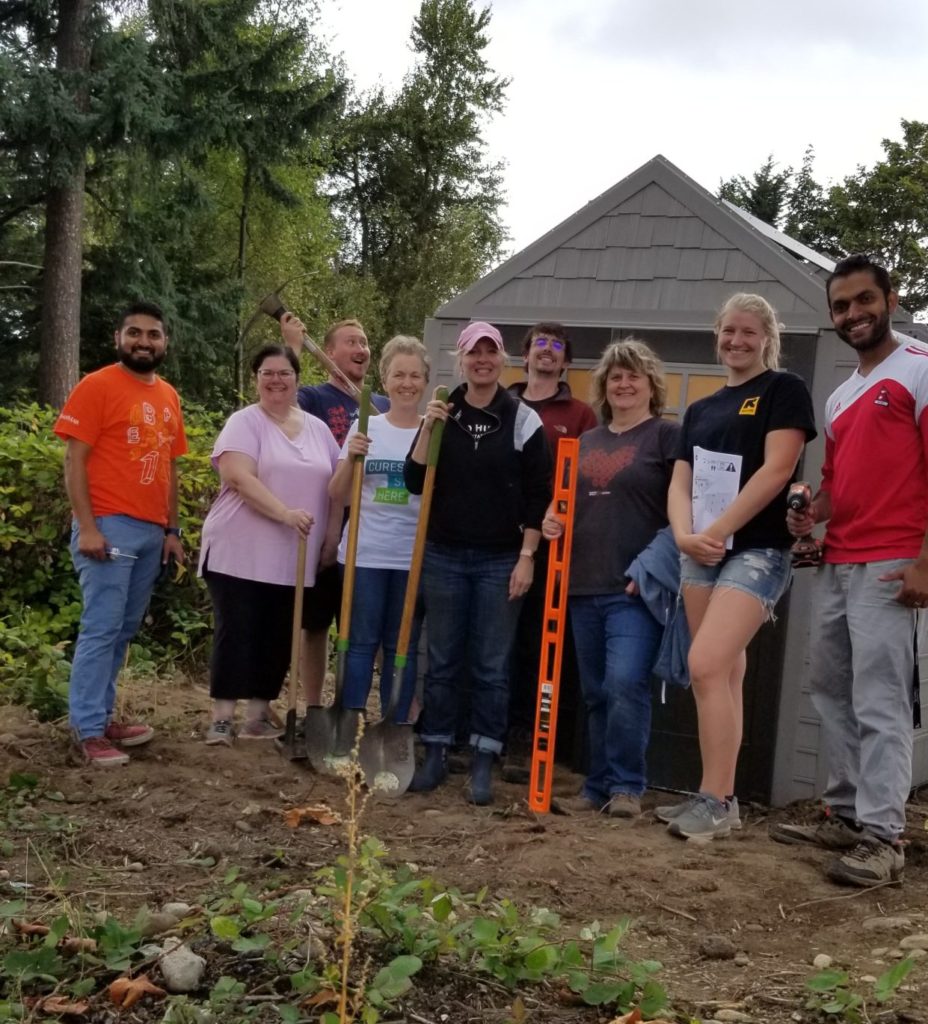 Event leaders try to engage volunteers in conversation while working, and they may play (appropriate) music to set the tone for a more relaxed event. Events usually have a designated time for a lunch break; encouraging volunteers to eat together increases social interaction and networking. All of these things can encourage volunteers to come back and volunteer again.
Aside from in-person thank-yous at the beginning and end of a volunteer event, event leaders also send thank-you emails to volunteers who attended. These emails include pictures of the volunteers working and before-and-after photos of the site. The VISTA also tracks all volunteer hours in a Volunteer Hours Tracking spreadsheet and notes when a volunteer attends more than one event. This tracking helps the VISTA know who to give special appreciation to for repeated service. At the organization level, the IRC hosts a Volunteer Appreciation week for all volunteers across IRC programs, which includes small gift bags of IRC swag and a potluck event. The Volunteer Specialist usually organized this.
New Roots also has needs for regular volunteers to help with administrative tasks or to fill a gap in service. These volunteers must sign contracts with the IRC and log their hours in the Salesforce database, which is managed by the Volunteer Specialist. Regular volunteers are responsible for tracking their own hours (unlike on-call volunteers). However, it is still helpful for the VISTA to record the hours of regular volunteers in the Volunteer Hours Tracking tab in the New Roots FY21 Data spreadsheet. The VISTA is responsible for managing regular volunteers, including assigning tasks and giving feedback. Making a standard checklist that the volunteer works through every time they volunteer is a good way to keep the role defined and tangible. Be sure to show appreciation for these volunteers as well!