Donor Relations at Good Cheer Food Bank
Donor Relations
Whidbey Island has a large community of homeowners engaged in growing their own produce, as well as numerous fruit trees located around the South end. The food bank sees a steady flow of produce donations from the community during the growing season, and the fruit tree gleaning program was created to help prevent excess fruit from going to waste. Ongoing communication with donors, volunteers, and the community at large, is done through an email newsletter, blog posts, and Good Cheer's social media accounts on Facebook and Instagram, which provide an easy way to share news and upcoming events.
Good Cheer has also created and nurtured relationships with local farmers who donate excess produce, either through the weekly glean at the Bayview Farmer's market or through scheduled gleaning events at their farm.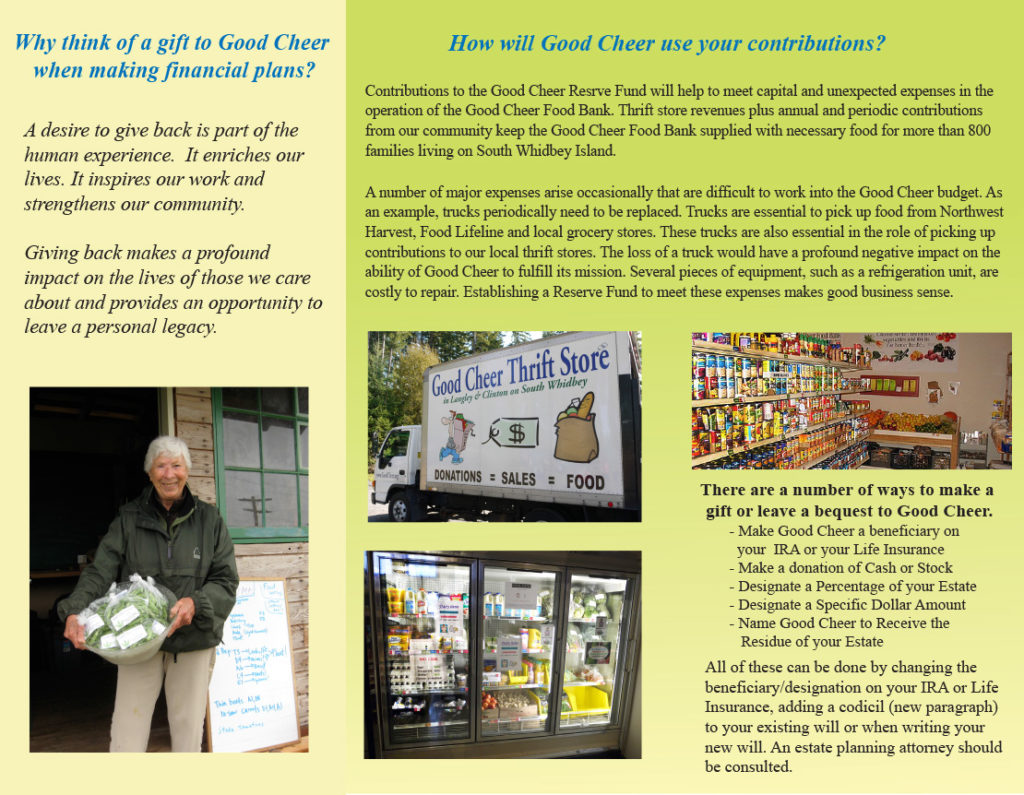 The local Rotary Club is an integral part of the gleaning program, as they do a weekly glean at the Organic Farm School on Whidbey Island, as well as smaller independent fruit tree gleaning through their network of tree owners. They also act as a backup team for the Good Cheer gleaners, stepping in to help when there are too many trees and not enough volunteers to get to all of them in time.
Relationships like these are crucial in sustaining the programs that provide fresh produce that food bank clients would not have access to otherwise. Donors are thanked in person and offered a donation receipt for their taxes. A formal thank you is given to the Rotary Club gleaners showing the total amount harvested by their gleaning volunteers. Partner organizations and fruit tree donors are given a personalized thank you card, with monthly or annual donation totals where appropriate.