Refugee Garden Art Program at Iskashitaa Refugee Network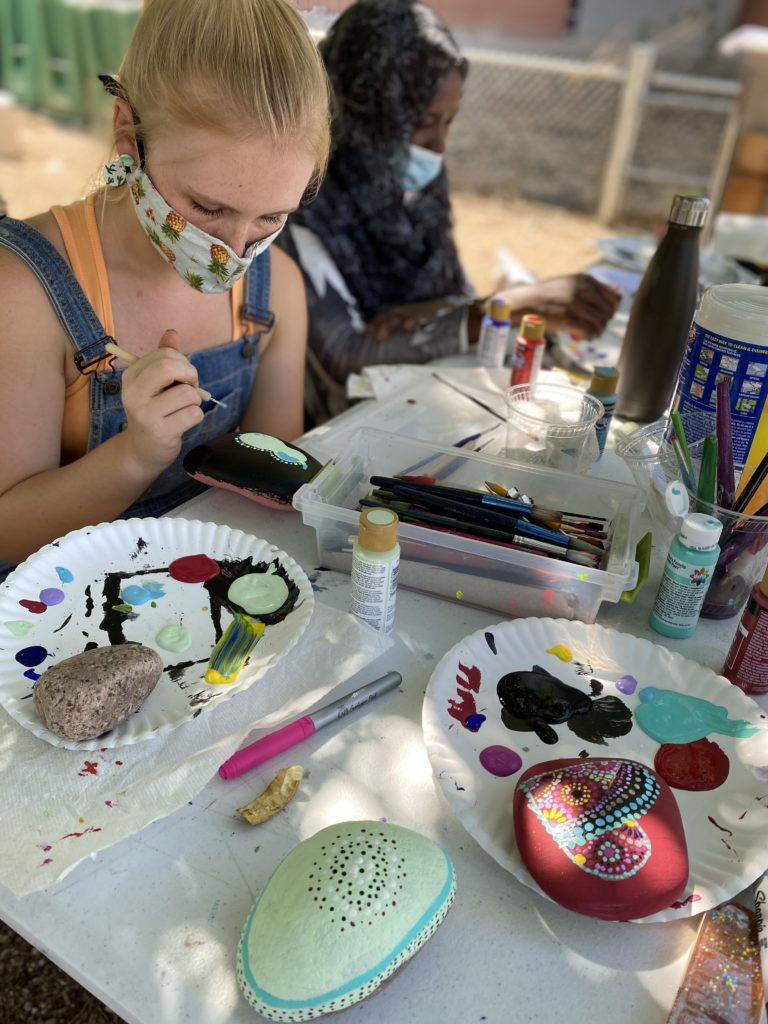 Refugee Garden Art Program (R-GAP); Filling the gaps
Iskashitaa participates in a near-by community garden that is managed by the University of Arizona. Those 9 garden plots are more than just cucumbers and okra, but also a community space that offers peace of mind during the COVID-19 pandemic. Paired with always wearing a face mask, Iskashitaa's garden was able to be the heart of their community as it has plenty of room to physically distance and open, fresh air.
Almost immediately, art projects took place in addition to garden activities in order to beautifully distinguish which plots belonged to Iskashitaa. At the garden refugees and volunteers painted rocks with their own original designs, names, and flag designs from their countries of origin. The garden also later housed composition boards for Iskashitaa's public art project led by Arizona Serve Americorps members. These composition boards were an integral step in planning a community mural; at each garden day these boards were sketched and doodled on by the Iskashitaa gardeners prompted by the questions, "what does community mean to you?" After months of accumulating original designs, the garden served as the workshop space of fashioning the designs in the manner they were going to appear on the wall in the mural. While this was led by Arizona Serve Americorps, the creative influence and decisive power was all in the hands of the refugees. After several months of obtaining and organizing the compositions, the mural was beautifully executed at the Iskashitaa headquarters with the assistance from refugees and volunteers who had been contributing throughout the whole creative process.
The garden continues to be a classroom for art every week courtesy of a volunteer art teacher who believes in the healing properties of art and nature. Between the outdoor atmosphere, tending to the garden, and various creative outlets, the Refugee Garden Art Program was the first of its kind with Iskashitaa and has been a tremendous success for safely bringing people together during COVID-19 to preserve their mental, emotional, and creative health.