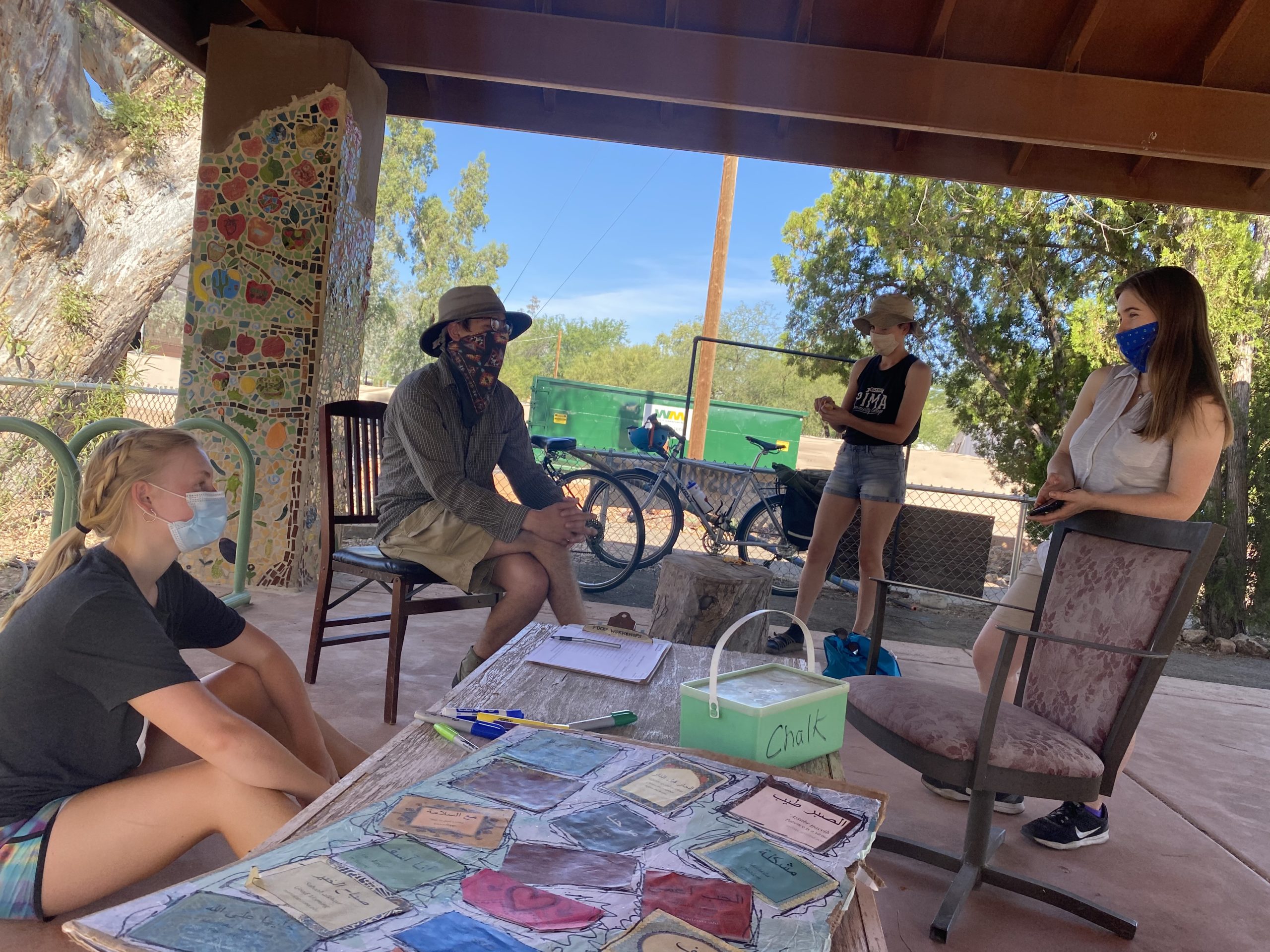 Tucked away in the Sonoran Desert, Iskashitaa Refugee Network (IRN) is the only gleaning organization in Southern Arizona. Iskashitaa works tirelessly to divert over 100,000 pounds of backyard bounty from landfills every year. Gleaned items are intentionally allotted to the most food insecure individuals in Tucson; redistributing to refugee families, food pantries, soup kitchens, and many other community meal programs. Through their strategic food-based programming, IRN integrates United Nations refugees into the Tucson community with harvests, culinary workshops, and other volunteering events which provide opportunities to practice English, learn about the city of Tucson, and strengthen their community network.
As social distancing and other precautionary measures are still necessary in Arizona as COVID-19 cases continue to rise, it has become apparent to the Iskahsitaa Refugee Network that physical health and wellness is not the only aspect that affects their communities throughout the pandemic. The necessary measures of social distancing greatly affected the practices of Iskashitaa Refugee Network. Their mission to integrate United Nations refugees into the community poses its own complications regardless of a pandemic with social isolation being a common issue refugees face when arriving in their new home. That being said, intentional isolation makes matters of refugee's  community, mental, and emotional wellness even worse. 
Iskashitaa Refugee Network has started to address this issue in collaboration with the Americorps Arizona Serve public art team; the idea being an initiative of one of the team's members after they spent many weeks volunteering their time gleaning with Iskashitaa. The idea for a refugee community art project focuses on art functioning as a proud representation of refugees in the Tucson community and a platform to express creative, mental, and emotional wellness. 
Iskashitaa Volunteer Manager and HAH Harvest VISTA, Kate Crooks, saw the potential in this opportunity to bring forth necessary community cohesion during this time of mental, emotional, and community health being strenuously taxed. For this project to successfully culminate in community benefit, collaboration across multiple parties of expertise was crucial. This project is being done in collaboration with Iskashitaa Refugee Network, AZ Serve Americorps members, refugees in Tucson, and Pima Community College Refugee Education Program
An initial meeting was held with the iskashitaa team and the AZ Serve public art team to strategize community resources, delegate responsibilities, and establish expectations. The first community collaborative meeting was held on June 16th and facilitated by Harvest VISTA Kate Crooks.
Kate views the responsibility of being a facilitator as an integral part of being a Harvest VISTA because of how it requires consistent community partnership and feedback. The role as a facilitator isn't to give ideas, but rather to provide structure and resources to the community and  intentionally centering community ideas in the project. It is the duty of the facilitator to see the talent of the community and empower them to reach their full potential. This entails always checking-in to verify that the relationship is mutually beneficial.
Moving forward with their plan, Iskashitaa has already received positive feedback throughout the Tucson community on social media. This project is a refreshing shift for all involved on how to approach health and wellness of individuals and the community.
Stay up to date on this process and view the final project by following Iskashitaa on instagram @iskashitaa_rn or liking Iskashitaa Refugee Network on Facebook.