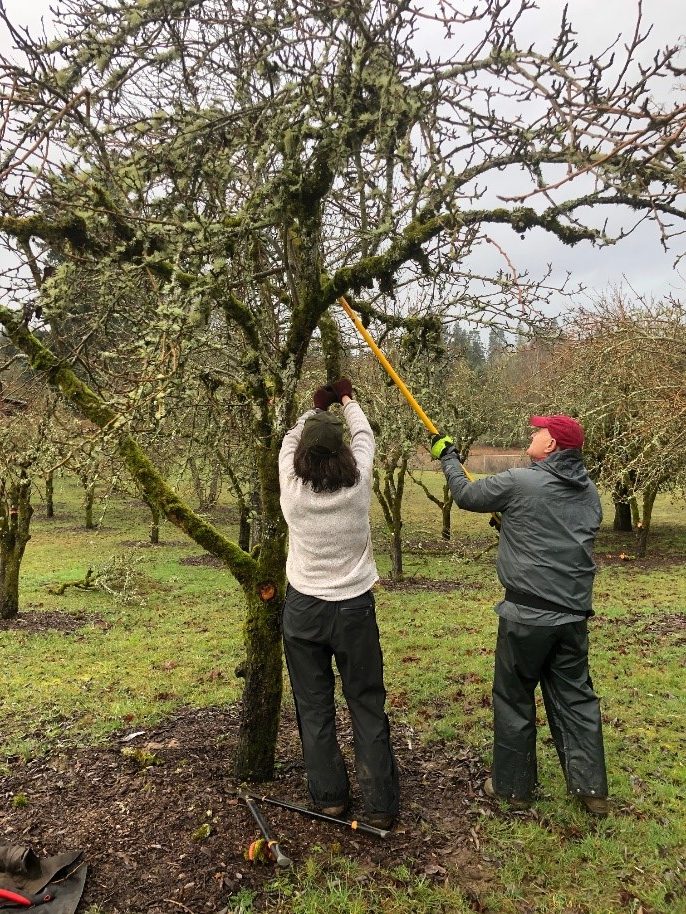 Harvest Against Hunger VISTA Lynsey Horne serves as program coordinator of Urban Abundance, a program of Slow Food SW WA in Vancouver, WA. Slow Food SW WA is an international organization that advocates for good, clean, fair food for all, and their program Urban Abundance's mission is to engage neighbors in the maintenance, harvest, and creation of edible landscapes that are accessible to everyone. Urban Abundance is currently partnered with five fruit tree orchards in the Vancouver area to coordinate the seasonal maintenance, harvest, and donation of the fruit to the food bank, and holds workshops and other events throughout the year to engage community members in their own food sovereignty.
Foley Park, one of the largest community orchards that Urban Abundance helps stewards in Vancouver, WA has a long and rich history. Harvest VISTA Lynsey Horne continues to honor the heritage of this beautiful orchard that grows several thousand pounds of fruit each fall through winter work parties. These work events double as free fruit tree pruning classes, so volunteers get to learn valuable new skills on how to manage their own backyard orchards, as well as participate in the revitalization of this historic piece of land.
The Park is named in honor of Hubert and Ople Foley, who lovingly farmed and preserved this acreage for nearly 50 years. Hubert, an agronomist at heart, could make anything grow. He planted gardens everywhere he lived, first tending a small garden in Vanport, the military housing project in what is now north Portland, sharing the bounty with neighbors and dreaming of owning his own farm one day. That dream was realized when Hubert and Ople managed to buy their 10-acre plot with Cascade views in the then remote community of Felida.
The farm was not self-sustaining, so Hubert, an electrician at Alcoa, worked the farm by day and shiftwork at the plant by night. Gradually, he added to the small berry fields and 500-tree pear orchard that came with the property. An expert with orchards, he dotted the farm with varieties of apples, peaches, Italian plums, and cherries, pruning and grafting the trees to grow in some cases two kinds of apples from the same trunk—an amazement to others, but "fun" to him. He won awards for his dahlia garden, while his pumpkin patch supplied free pumpkins to the local kids every Halloween, complete with a scarecrow handmade by Ople. As adjacent orchards and strawberry fields gave way to development, the Foleys continued to grow acres of raspberries, blackberries, pears and walnuts. Many local kids held a first job picking berries for Hubert and Ople.
The income generated from selling their produce at local co-ops never fully covered the expenses of growing and harvesting, but Hubert always had a clear explanation for it. He'd say, "I just like to watch things grow." And they did. The Foleys maintained 3 to 4 large vegetable gardens on the property and gave away or canned what they grew and, as was their style, continued to share. The garden was so bountiful that in a typical year the Foleys might can 150 jars of green beans alone. Most of these canned goods were given away to friends, neighbors, and the many immigrant families they nurtured through their church.
The Foleys were beloved by the community not only for the gifts from their farm, but also for their generosity and benevolence. Hubert was often called upon by younger neighbors to share his mastery of tree pruning, lend his tools, or pull them out of a ditch with his tractor. A child of the depression, he was forced to leave home at the age of 14 to help support his family. He always regretted the college education he never had, but Hubert was a wise and deeply accomplished man. So Foley farm became his home base, a spot where friends and neighbors felt comfortable just stopping by to discuss how to grow things. 
When Laotian refugees immigrated to the area after the Vietnam War, Ople and Hubert not only employed them, they befriended them. Ople taught them English and Hubert helped them grow strange vegetables in a new land. Many of them passed new plants and ideas on to Hubert. But he gave them something in return: the example of someone who lived his dream. Several of these families now have small farms or gardens of their own and keep the Foleys dear to this day.
Ultimately, the park was bought from the family by the Clark County in 2006, and Urban Abundance has been helping manage the orchard since they partnered with the Parks Department to remove an enormous amount of invasive blackberry in 2012. Since then, Urban Abundance has held many workshops and work parties in this orchard, teaching community residents how to prune the trees as they worked on restoration efforts, mulching the trees, hosting pollinator workshops, harvest events, and even a small festival. Each fall, Urban Abundance volunteers harvest thousands of pounds of pears from the 170 trees so that they don't go to waste.
Foley Park in 2012 (before)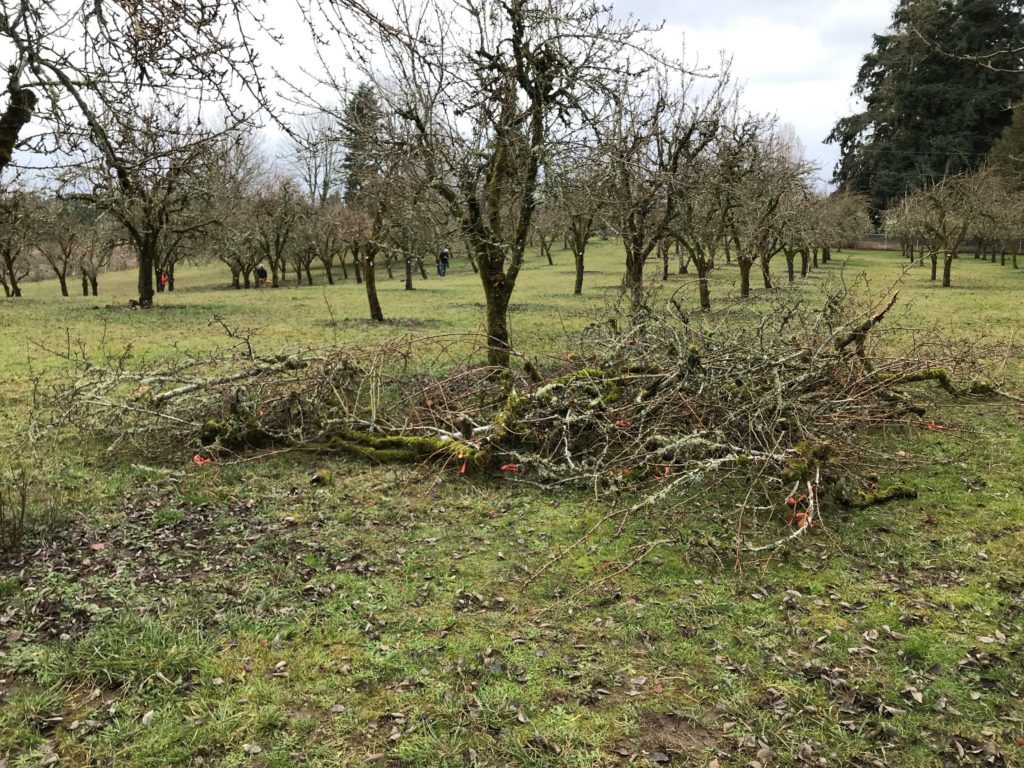 Foley Park in 2020 (after)
Over December and January, Harvest VISTA Lynsey Horne held a series of several work parties in this special orchard. Working with a core volunteer and fruit tree expert, they went through the orchard the week before and taped all the branches that needed to be cut to maximize the volunteers' time and really amp up the restoration efforts of these 40 year old trees. By the time the series was all said and done, the pile of brush was almost as tall as their volunteers!
These work parties in winter months are hugely important to an organization like Urban Abundance that focuses gleaning efforts mainly on fruit trees. If the trees aren't properly pruned, they are more susceptible to disease. The goal is to increase the longevity of these edible landscapes in hopes of continuing to harvest from them for increased community food security year after year.