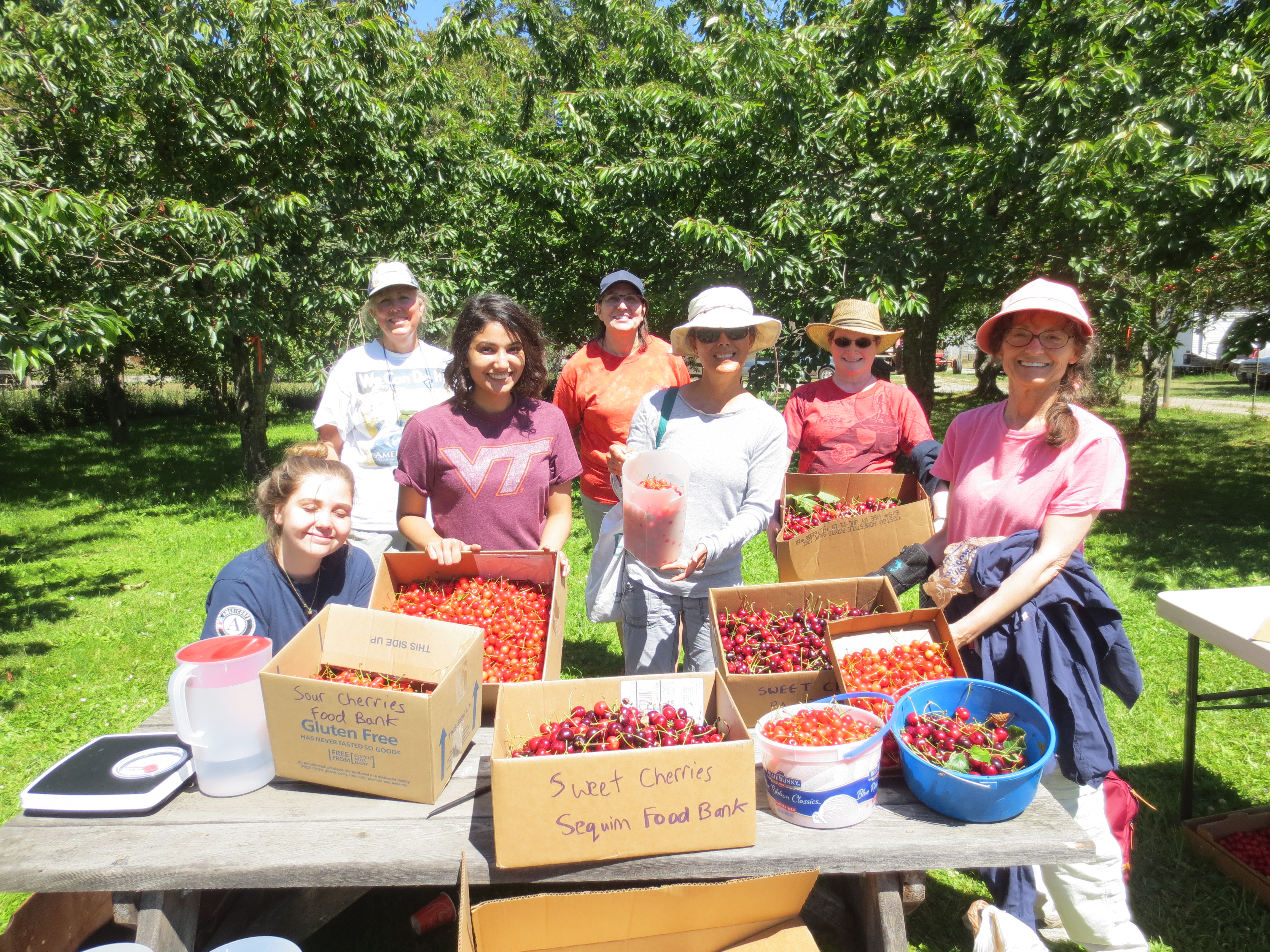 Sharah Truett is an AmeriCorps VISTA member serving at the WSU Extension office in Port Angeles, WA.
VISTA member Sharah Truett interviewed several gleaning volunteers during the 2018 harvest season to find out what personally motivated them to glean.  Here is what they had to say:
"It doesn't take much to end up in a predicament," acknowledged gleaner Cindy Schrader.  She's speaking from experience from a brief period in her life when she didn't have enough food to eat. "I was a single mom living in Nebraska, living paycheck to paycheck.  My co-workers came to my rescue…they bailed me out with sacks of groceries when I was going through some really rough times."
Now, as a gleaning volunteer, Cindy has the ability to help others get healthy food on their table.
Karlena Brailey, a long time gleaner with the program, participates in order to "personally have a connection to the food system and to give her daughter a connection to the land." During a time in her life when her cost of living exceeded her income, she says gleaning "was like a gift…"  She loved feeling like she "didn't have to ration seasonal produce".  Nowadays Karlena donates a great deal of gleaned produce to the food banks because "it benefits community health in a significant way."
Another enthusiastic supporter of the gleaning program is Forks resident Jody Schroeder, who even organized a gleaning event on his own this year. When asked what motivates him, he says, " As a young father in the military, I had, on occasion, needed to go visit my local food bank for help through the government commodities program. If I can help another father with food for his kids, I will. There is nothing worse, I feel, than seeing food go to waste in someone's garden when it could benefit some family with hungry children."
Over and over again, the gleaners whom Sharah interviewed spoke of the importance of giving back.  They remembered times in their own lives when they were food insecure and friends, family, and even strangers stepped in to help them out.  Now they glean in order to bring healthy food to others who are struggling.
Jody Schroeder is now the president of a local food bank and loves seeing those shelves stocked with local produce. He says, "If people have extra food from their gardens, by all means, DONATE IT!  If you can't pick it, call the gleaners.  Don't let it rot on the vine when you can help feed the hungry…Nobody should go hungry."