Gabriel Gibbens is a Harvest VISTA serving at the OIC of Washington in Yakima, WA. As the Gleaning and Education Coordinator, Gabriel connects with Yakima Valley farmers to coordinate gleaning events and works alongside the SNAP-Ed education program to promote healthy eating within the community. The OIC of Washington offers services in housing, education, and health and nutrition. They provide rental assistance, coordinate a GED program, offer career training, and operate multiple food banks.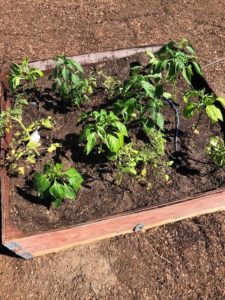 The OIC of Washington Food Bank is always looking for new ways to incorporate fresh produce into their weekly food distribution. Their latest project towards increasing produce at their food bank has been the creation of a community garden that sits across the street from the OIC of Washington main building.
With the help of Harvest VISTA service member Gabriel, the community garden opening ran smoothly with the planting of over 80 vegetable plants. Gabriel sourced tomato, bell pepper, jalapeno, squash, eggplant, cilantro, and lettuce plants through a local donation.
The Henry Beauchamp Community Center Youth Summer Program, part of OIC services, eagerly awaited the community garden opening. The HBCC Summer Youth Program helped with the planting process, which gave the elementary and middle school aged kids an opportunity to learn valuable skills in gardening and nutrition education. The kids in the program worked alongside volunteers from the Food Equity Coalition and the Asian Pacific Islander Coalition. The youth will continue to tend to the garden throughout the growing and harvest seasons to further their skills.
The OIC Community Garden will not only provide the OIC Food Bank with another source of fresh produce but will also provide people in the surrounding neighborhood with access to a gardening plot. The garden will serve as a community gathering place and an area for community members to learn new skills in growing food, which will help individuals to become more self-sufficient. The opening of the community garden embodies the OIC vision statement of "Improving the world by empowering people."