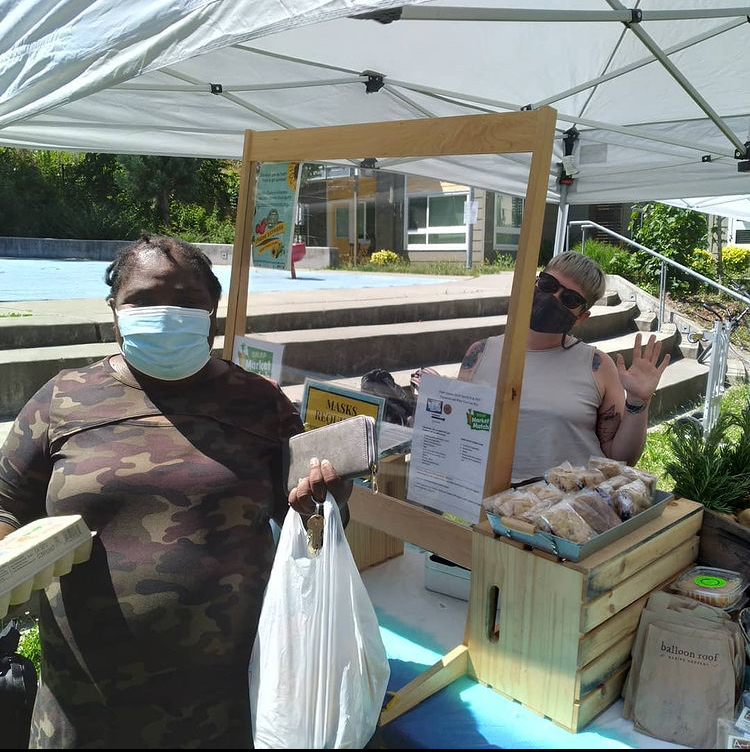 Samara Gonzalez is currently serving her first year as a Harvest VISTA with the Tacoma Farmers Market in Tacoma, WA. As she gets more comfortable in her role as Community Liaison, Samara is looking forward to bringing progressive change in food equity. Samara one day hopes to influence policy decisions in food access using research gathered from low income farmers market shoppers. Some of the data she hopes to collect will be qualitative (i.e. how public health food programs help to alleviate stress for marginalised communities) and some will be quantitative (i.e. how much did EBT spending increase or decrease when culturally relevant foods were offered at farmers markets). The Supplemental Nutrition Assistance Program (SNAP) is distributed via electronic benefits transfer (EBT) cards similar to a debit card where SNAP dollars are loaded each month. 
Research surrounding food access and the subsequent results can provide useful evidence needed to help shift our food systems, and help create policies on multiple scales that increase food equity. Tacoma Farmers Market (TFM) tracks the amount of EBT sales at all their markets in order to understand their customer base, offer additional social services such as SNAP Market Match, and give grantors and funders the necessary evidence to prove that these federal programs are working. This is not unusual as most farmers markets accepting SNAP/EBT also track that kind of data to establish funding needs. 
Collecting data on EBT sales is fairly straightforward. It's a matter of creating a spreadsheet and diving into the wonderful world of numbers and figures. However, gathering data on the perspectives of SNAP users (qualitative data) can prove a bit more difficult. A large part of capturing this data is making sure the survey questions are accessible to all SNAP users in their preferred language. This means surveys need to be available in multiple languages and formats so researchers can overcome the language barrier. For those of us working to improve food equity for our marginalised communities, immigrants, refugees, and others, Tarjimly is an organisation that can help drastically improve the playing field. 
Tarjimly is a program aimed at providing "on-demand language access" for nearly 140 of the earth's spoken languages. This fantastic program, and those who manage it, are responsible for facilitating conversations between medical staff, teachers, food access workers, legal workers, and families, among other groups. While TFM has yet to use Tarjimly in all of these ways, the non-profit organisation is using the app to translate their flyers and signs to attract more farmers market customers who speak languages other than English. Some of the most popular languages used in the Tacoma and greater Pierce County region are Spanish, Khmer, Russian, and Cantonese. TFM hopes that by using these languages in their outreach efforts, and providing market staff and volunteers with the Tarjimly app, the farmers market will be more inclusive and become a reliable food access source for anyone struggling with food insecurity.