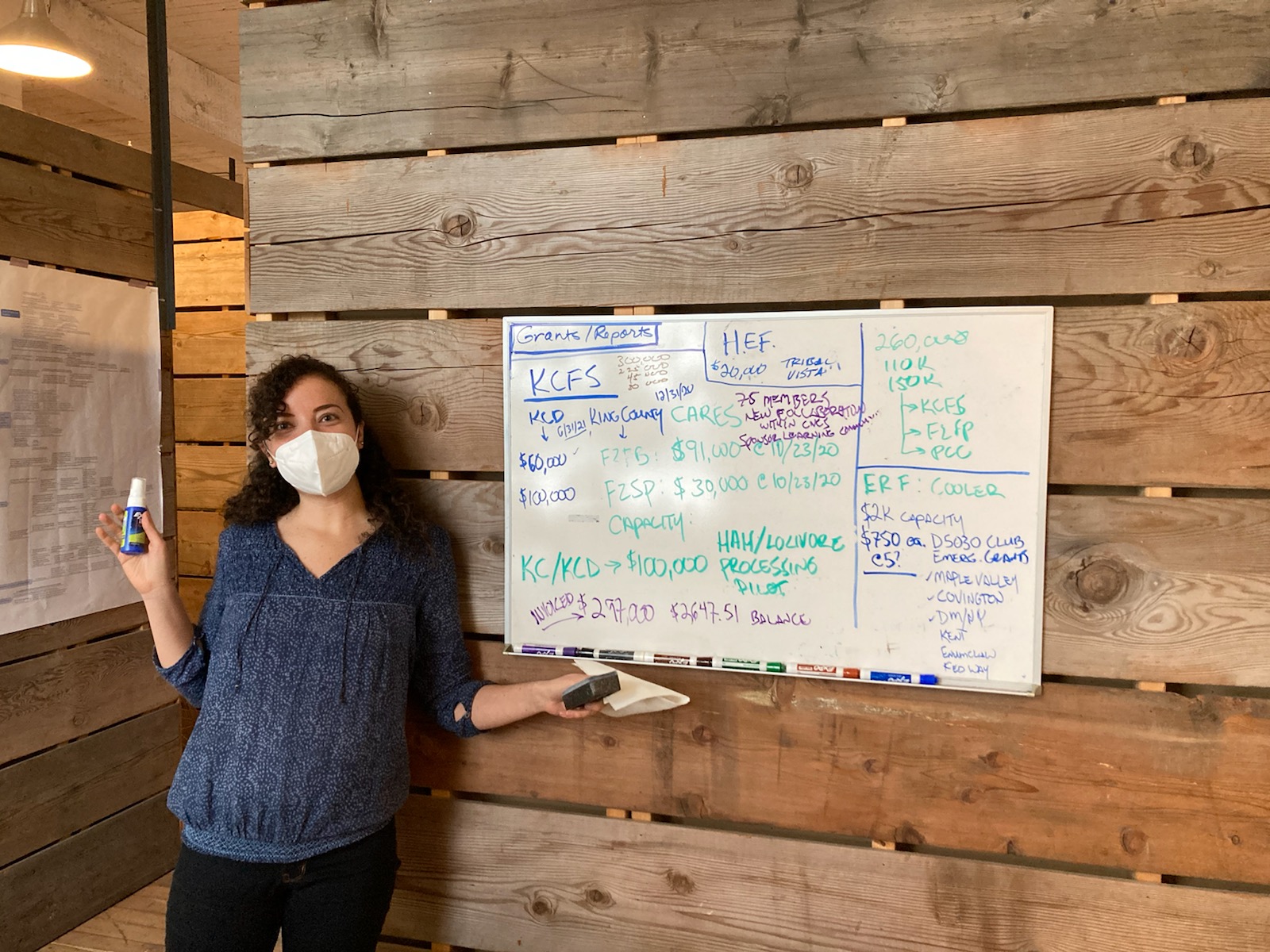 Maddie Price serves as a Harvest VISTA at Harvest Against Hunger (HAH) in Seattle, WA, coordinating the King County Farmers Share (KCFS) program, which is an expansion of the statewide Farm to Food Pantry program that HAH manages with the Washington State Department of Agriculture. Through a 2-year Regional Food System Grant from the King Conservation District, KCFS provides funding for hunger relief agencies in King County, WA, to purchase fruit and vegetables from small-scale farms also in King County to expand access to fresh whole produce for local food insecure populations. KCFS received an expansion and extension of the KCD grant funding into 2021 to alleviate the impacts of COVID-19 on local small farms and emergency food providers.
At the start of her service term in February, VISTA Maddie anticipated the year-end workload in farm-to-food assistance to settle down in tandem with the outset of the growing season.
Like many people's plans for 2020, that is not what happened.
Over the summer, the King County Council allocated over $1 million for small agricultural business support in response to COVID-19's impacts on the county's food system. This funding included "farm to food bank" and "farm to senior meals" support, recognizing the current strain on the emergency food system and seniors' higher vulnerability to the virus.
Seeing the effectiveness of farm-to-food assistance work through KCFS and the PCC/NFM partnership, the county council then tasked HAH with disbursing at least $225,000 to King County nonprofits by the 2020 CARES Act spending deadline of December 30 — starting in late August.
Considering the processes of recruiting new hunger relief and farm participants into the program, this need to rapidly expand the KCFS network as less produce was available in the county presented a challenge, to say the least. Yet, despite 2020's limitations in communication and capacity across the emergency food system, as staff were stretched thin to make up for reduced volunteers and in-office time, VISTA Maddie found and fostered enough connections to – as is said in AmeriCorps – "get things done" and complete the spending goal. However, this endeavor was very much a coordinated effort, thanks to help from contacts old and new.
For example, HAH's fellow Harvest VISTA program at the Seattle International Rescue Committee linked Maddie to the South King County Coordinated Response to Hunger network, leading to contacts with Seattle/King County Aging & Disability Services, who allowed her to present the KCFS funding opportunity at their next meeting with senior meals providers across the county.
Additional new connections made in growing the KCFS hunger relief network have also shown the resilience and innovation of communities to address COVID-related food insecurity, including not-previously food distributing organizations, like Jubilee Reach, and even not-previously existing groups like Plant Based Food Share and newly established partnerships like We Love Kent. As VISTA Maddie learned, these groups began coordinating food distributions serving hundreds to thousands of families through expansive networks across churches, schools, and low-income housing complexes around the county.
However, operating outside the traditional emergency food system, these organizations lacked access to the same resources as government-recognized food banks or long-established meals programs. This gap is where the CARES funds provided a valuable boost to expanding the impacts of KCFS. The program structure and tools VISTA Maddie developed could be applied across these diverse new partners to quickly develop new purchasing relationships with local farms. This nimbleness allowed these organizations to take advantage of bountiful fall harvests even as colder temperatures settled in, including diverse winter squashes, colorful beets, and whole brussel sprout trees!
Reflecting on this sudden, unexpected development for the KCFS program to close out an already tumultuous year, VISTA Maddie recalls debating whether her initial design for KCFS grower appreciation cards (after they were printed, of course) should have made it clearer that KCFS was a farm-to-food bank program. However, given the program's breadth of impacts and connections made to address the various farm-to-fork challenges brought by a pandemic, it's turned out that "building relationships for a healthy, sustainable local food system" was a perfectly suitable tagline for the program.
This project was supported by a grant awarded by the US Department of the Treasury. Points of view in this document are those of the author and do not necessarily represent the official position or policies of the US Department of the Treasury.