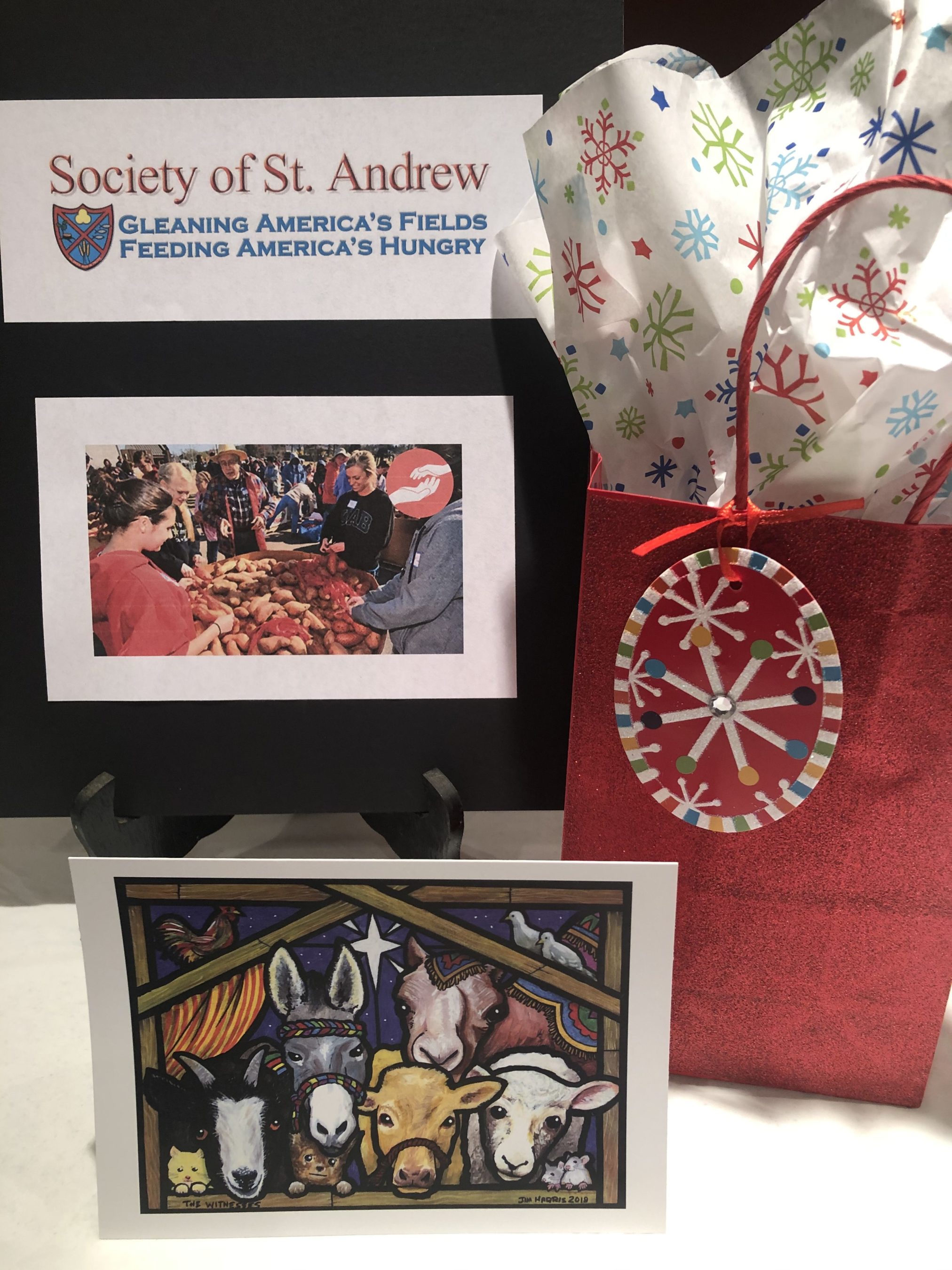 Miracle Wilson joined Society of St. Andrew as a VISTA/Program Coordinator in Atlanta, GA. This nonprofit organization serves its community by providing gleaned fresh produce back into the community through the involvement and awareness of community members. Going into a new area, metro Atlanta, they seek to bring the community together and bring awareness to fight hunger for themselves, their neighbors, and for the state of Georgia.
Just before getting into the full swing of the holiday season, everyone starts to buy gifts or thinking of gifts, especially in a busy city like Atlanta. This year SoSA participated in Alternative Giving Day with Sharp Memorial UMC in Young Harris, GA to sell Christmas cards to their church guests. The regional director, Adam Graham, and program coordinator, Sandi Newman have worked with the pastor in past South Georgia gleaning. 
Adam recently relocated to serve Sharp Memorial UMC.  Every year they have an Alternative Giving day where "gifts" bought are supporting a charity or a philanthropic organization. This tradition is worldwide and has been going on for several years in all cultures. This type of gift is perfect for those who never want a gift or those who have a favorite organization, nonprofit, or charity. 
Alternative Giving Day, with Sharp Memorial UMC, was on November 17, right before the holiday season really kicked off with Thanksgiving. Adam, the regional director, set this great opportunity up for Miracle to sell hand painted print Christmas cards. Tabling with two other organizations that participated in alternative giving day with Sharp Memorial UMC, the Christmas cards were a huge success among the others. These cards not only provided a gift of 500 servings of food per card, but a one of a kind painting on the front that can be saved and collected over the years. Each card was sold for $15 with a powerful message inside explaining the gift and appreciation from SoSA and those hungry neighbors.
Finding ways to raise money for an organization can be one of the more difficult parts of a nonprofit, however, Adam showed his VISTA Miracle that there are several ways. One by reaching out and getting involved with churches alternative giving days, selling crafted items, or even through social media. Miracle was amazed by the options when it comes to fundraising and was ready to learn and start.
Miracle sold almost every Christmas card she was given and even had many generous donations that day. The members of the church were welcoming and invited Miracle with open arms, which included lunch. Not only almost selling out of cards, she was also able to raise $1,000 for SoSA. What a blessing it was to start the holiday season off this way and also end the business year with a fundraiser. Reaching out and finding other sources of money has been a true experience to learn in the Decatur office.